creator 2.0 en
Design name badges yourself - with the new creator 2.0!
The creator 2.0 was developed to design name badges yourself quickly and easily. The software includes all formats of our available name cards and is suitable for printed sheets in US letter and A4 format. So you can exchange the name tags of your brilliant badges® name tags as required - for seminar and workshop participants or new employees in your company.
A particularly intuitively structured menu navigation allows operation without any previous knowledge: In just a few steps you can import name lists, choose from the pre-installed badgepoint® formats, design the layout using a sample template and print out the finished labels. Use the free download of our creator 2.0 tool, which is available on our website. Thanks to its high compatibility, the software can be installed on all Microsoft operating systems from Windows XP onwards.
The advantages of the creator 2.0 from brilliant badges®
Quick and easy installation via direct, free download
Self-explanatory user interface
Assisted guidance through the programme
Formats of all brilliant badges® name cards pre-installed
Suitable for printed sheets in DIN A4 and US letter format
Comfortable import of name lists
Example document for an easy start
Diverse printing functions (such as cutting marks)
Choice of over 200 flag icons for language identification
Language selection German / English
Download here*
* Version: 2.07 Reg. Code: WgqxWG73
System requirements / compatible operating systems:
- Windows ab Windows XP
Note for all creator 1.0 users
When you download the software, your old version is automatically updated to creator 2.0. It is therefore not necessary to uninstall creator 1.0 or make any other system settings.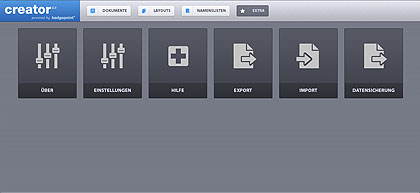 Please note the following: In order to have all current name badge templates available in creator, you must import the products.ced file. You can find this file in the "creator2_setup_beta_5" folder you downloaded. After opening the creator, you can import the products.ced under the menu item "Tools"/"Import".

The creator 2.0 of this issue is a beta version, which is currently being worked on to make it even more comprehensive and user-friendly.